Law Firm Website Design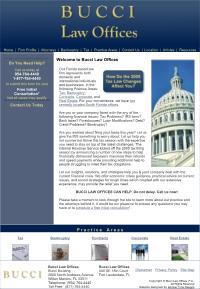 Does your current website give potential clients the information they need about your law firm in order to make an informed decision regarding their legal representation?

Another Time Designs has developed an affordable web solution that can be customized to meet the needs of any Attorney or Law Firm. Everything on these websites can be designed to your existing logo and signature colors in order to maintain your corporate identity. The navigation and size of website can be altered by either adding or removing pages, tailoring the website to the needs of your Firm.

These websites are easily linked to your existing Law Partnership sites such as Lawyers.com, but allows your website to be displayed independently in Search Engine results, giving you more opportunities for potential clients.
The same way these websites can be customized for any type of Business, we can create a custom website for your Law Firm. See an example of a custom Law Firm Design pictured above.

See examples of our current selection of available designs below. New designs are being added often.

Law Firm Design #001


Law Firm Design #002


Law Firm Design #003